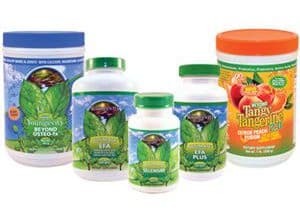 Healthy Body Brain and Heart Pak™ 2.0
The Youngevity Dr Wallach Healthy Body Brain and Heart Pak provides the Dr Wallach foundation 90 for Life Healthy Body Start Pak 2.0 PLUS extra Essential Fatty Acids which can assist cardiovascular health. Another vital ingredient in this pack is Selenium which has been identified by the National Academy of Sciences as a substance that significantly decreases cell damaging free radicals. These free radicals can cause damage to arterial walls ultimately contributing to cardiovascular health issues. Since Selenium can't be manufactured by the body and is not present in most Australian soils, it is important to supplement with Ultimate Selenium™. This pack includes BTT 2.0 Citrus Peach Fusion -450g canister (1) EFA PLUS-90 soft gels (1) Beyond Osteo-fx powder – 357g Canister (1) and Ultimate EFA™ (1) and Ultimate Selenium™(1).* See individual products for details.
This Healthy Body Brain and Heart Pak contains the Dr Wallach 90 for Life Essential Minerals, Vitamins, Amino acids and Essential Fatty Acids.