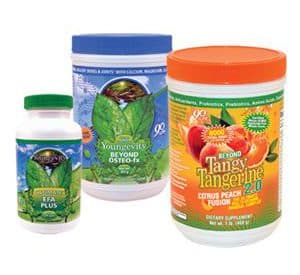 Healthy Body Start Pak™ 2.0
The Dr Wallach Healthy Body Start Pak delivers all 90 for Life Essential nutrients your body needs to sustain optimal health and wellness. Two drinks and 3 capsules per day delivers to your body – 60 minerals, 16 vitamins, 12 Amino Acids and 3 Essential Fatty Acids. Youngevity's quality production methods enable the highest absorption rate of mineral supplements on the market. Each pack includes BTT 2.0 Citrus Peach Fusion -450g canister (1) EFA PLUS-90 soft gels (1) Beyond Osteo-fx powder – 357g Canister. See individual products for details.
This pack contains the Dr Wallach 90 for Life Essential Minerals, Vitamins, Amino acids and Essential Fatty Acids. Dr Wallach recommends one Healthy Body Start pack per 100lbs (approx 45kgs) of body weight per month for the most rapid results.